Best Overall
If you suffer from allergies quite frequently, then you know exactly how frustrating it can be. However, the reality is that when you live in a humid climate, there are so many triggers that can bring on allergies, such as mold, mildew, and dust mites.
If you feel that your allergies are becoming a bit too much, owning the best basement dehumidifier could be the answer to this problem. Ultimately, people develop allergies when they live in very humid climates.
Alternatively, the climate may not be humid; however, your living space could be very humid. Small living spaces, such as kitchens and bathrooms, lack ventilation. 
Small apartments and basement apartments are common areas where moisture tends to accumulate and ultimately leads to allergies.
If you suffer from allergies, you will likely experience one or more of the following symptoms:
Stuffy nose, sneezing
Difficulty breathing, wheezing
Itchy and watery eyes
Skin rashes and other irritation.
Thankfully, there are dozens of different types of dehumidifiers on the market. So let's take a closer look at the best dehumidifiers available today and why you should be using them.
Best Basement Dehumidifier Reviews & Recommendations For 2021
Winner: AlorAir LGR 85 Dehumidifier
The AlorAir LGR 85 Pint Commercial Dehumidifier with Pump is a commercial dehumidifier specifically designed for water and flood damage restoration.
It's a compact dehumidifier that is easily transportable and saves energy. Thanks to its stackable design, not only can it restore damages due to floods, but the machine can also be transported to other destinations after the restoration tasks.
This is probably one of the toughest dehumidifiers for after flood disasters and is also the best choice when it comes to after restoration tasks such as getting rid of dampness.
You can use it in shops, warehouses, storage areas, garages as well as industrial institutions and many more facilities.
Overall, the machine is able to run for approximately 12 hours. However, when used for the first time, you can expect anywhere between 1-12 hours of run time.
Some additional features of this machine include its waterproof design. Ultimately this means that you can sink the unit in water because the rubber strip keeps the circuit board completely sealed off.
So it's a great feature to have especially when dealing with flooded areas. The washable MERV 8 can also be easily replaced when you unplug the unit.
The cord and hose are also easily stored, and the power cord and condensate hose are stored on the side of the unit to maximize just storage capacity.
It also has an easy touch button control panel, and a bright LED display. The coils are also epoxy powder coated.
Runner-Up: Dri-Eaz Revolution LGR Dehumidifier
The Dri-Eaz Revolution LGR Commercial Dehumidifier contains fast drying capabilities in order to prevent the buildup of mold, mildew, and prevent other types of damage.
It's not only compact, but it's also a commercial dehumidifier that pulls as much water as the largest dehumidifiers out there. In fact, it can drain up to 17 gallons a day.
So feel free to use it to dry out water-saturated areas quickly or to keep dehumidifier until subfloors, walls, carpets, and structural materials are completely dry.
The best part about this dehumidifier is that it reaches in places where others cannot. So this high performance and professional device can squeeze into the tightest of spaces such as bathrooms, kitchens, and hallways to reduce the humidity levels in these areas further.
It also contains real-time inlet and outlet temperature as well as a relative humidity display, which ultimately tracks jobsite conditions and the progress of your dehumidification.
In case of a power outage, it contains a convenient automatic restart feature that ensures that your device will start up again and continue to dry. There's also built-in automatic pump-out, which makes it easy to pump out condensed water into the sink, drain or toilet.
Some additional bonus features include its ability to dry leaks after floods quickly. This ultimately prevents damage to your floors, walls, and your cabinets.
Ultimately it also prevents moisture-related issues such as the growth of mold and mildew or even rot in damp climates.
Even damp basements are no match for this device as moisture is sucked out of the air, and it reduces humidity levels to under 50%. So say goodbye to musty odors in your basement.
Alternative: Dri-Eaz PHD 200 Commercial Dehumidifier
The Dri-Eaz PHD 200 Commercial Dehumidifier with Pump is a commercial-grade dehumidifier that combats and tackles excess moisture in finished and unfinished basements, garages, shops, utility rooms crawlspaces and more.
In fact can be used in any area where humidity causes the musty smell, corrosion, rust, and mold and mildew as well.
Consisting of digital controls, it's easy to read in darkened rooms, and the humidistat allows you to set the target humidity level for that specific area.
The automatic pump out allows continuous operation without your wedding about empty tanks and overflowing tanks.
You can control the humidity in your basements and various other places and deter pests in the process. Ultimately this machine allows you to protect your investment.
It also has a set and forgets automatic humidity control that keeps your valuable investment protected.
Alternative: Aprilaire 1820 Pro Dehumidifier
The Aprilaire 1820 Pro Crawlspace Dehumidifier is built to last with corrosion-resistant and aluminum coils. It is designed and made in the USA by Aprilaire, and the company is known to be leaders in indoor air quality solutions.
Ultimately, this device helps to control and reduce humanity, which ultimately keeps dampness at bay and off your carpets and furniture. It also deters mold, mildew, and bad odors.
If you are worried about termites or wood rot, then this is the ideal device for crawl spaces and is the perfect piece of equipment to eliminate that problem.
Ultimately it removes up to 9 gallons of water per day, and the bonus is that there is no messy water tray to empty.
The setup is simple, and all you need to do is place the included hose or the dehumidifier over the drain, plug it in, level it, set the target humidity, and you are good to go.
Alternative: AlorAir Basement Dehumidifiers
The AlorAir Basement/Crawl space Dehumidifier contains a gas valve defrosting system. This is a quick and efficient defrosting process that makes this dehumidifier capable of working at low temperatures of 36° Fahrenheit.
Ultimately the unit can work continuously and effectively without stopping regularly for the defrosting process. This saves energy and also makes the unit last much longer.
It contains an advanced technology that minimizes corrosion and Freon leakage. As with all dehumidification applications, there's always the hydroxide, oxide, or sulfide corrosion, which causes the Freon leakage to speed up.
Ultimately the epoxy coating on this device provides protection from corrosive environments and manages the quality heat transfer abilities over the life of the coil.
This device is created for modern families and homes. It gives you the full satisfaction of the dehumidifier with the consumer in mind.
The special features also make it ideal for basement and crawlspace applications. It has a remote control system as well as a strong tank and low-temperature operation.
Usage is also super convenient because this dehumidifier is of the highest quality and offers you easy operation.
It adjusts to your ideal moisture setting and continuously works with the drain hose as well. The shutoff is also automatic and allows for maximum moisture removal and odor reduction.
Basement Dehumidifiers FAQ
Are dehumidifiers good for basements?
Your basement is a little different from other areas of the home. This is because, in most cases, it is surrounded by soil and therefore has high levels of moisture.
So the question remains, Are dehumidifiers good for basements? The truth is that a dehumidifier can be the best thing for basements.
This is because it can help to fight humidity and condensation. If you leave moisture levels to its own devices, it can lead to foul odors and mold growth in your basement.
Some families use their basements into laundry rooms, and some use them as family and entertainment. Irrespective of its purpose, it's extremely crucial that you maintain and keep it clean at all times.
When maintaining your basement, humidity levels will be the main issue to tackle. Although it's normal and good to have a slight bit of humidity, too much of it can damage the walls, and the paint in your basement.
Ultimately, this will lead to the growth of mold. This is dehumidifiers coming extremely handy.
Dampness is probably a basements worst enemy. When your basement smells and written down, don't hesitate to purchase a humidifier instantly.
It has windows in the basement, then condensation on the glass windows will be proof enough that your basement is damp. The most usual causes of dampness in the basement are:
The heat from unvented clothes dryers
The heat from kitchens
Liquid from the ground
Rainwater
Humid air that comes into the home from outside and causes condensation
Dampness inside your basement is what usually results in condensation and, more often than not, a bad odor. This is especially if there is no proper ventilation.
It's a good thing that dehumidifiers keep everything toned down and well-maintained. Dehumidifiers are in fact, a fantastic source of insulation.
Some dehumidifiers are designed with HEPA and carbon filters that substantially remove odors and eliminate dust.
Dehumidifiers are also handy when your basement is used for drinking, gaming, and smoking activities that can usually cause odors to linger.
Mold spores form on surfaces and walls in basements. Mold spores just need the right level of humidity in order to thrive. Therefore reducing humidity in your basement will cause the spores to decrease.
Once you start noticing mold spores forming on walls and surfaces, you need to act right away. Spores can multiply rapidly, and therefore when you notice them, you need to nip it in the bud as soon as possible.
It is essential that you buy a dehumidifier fast. The spores may not damage surfaces or walls of the basement; however, they are extremely unhealthy.
When mold gets out of hand and into your home, it can lead to severe cold and flu-like symptoms.
The best way to prevent mold from forming is to maintain humidity levels in your home and keeping it at 60% or ideally a minimum of 30% and a maximum of 50%.
When shopping for dehumidifiers, you need to be aware that they come in different sizes and types as well. So in order to choose the right dehumidifier for your basement, you need to assess the size of your space and also the amount of dampness contained.
So you need to start by measuring the dimensions of your basement. You should take into account the size of the space that you need to dehumidify. So measure the length and width of the floors.
If your space is larger than 2500 ft.², you need to get a whole-house dehumidifier. These units are more costly upfront; however will save you money in the long run, especially when it comes to assisting your AC work more efficiently.
If you live in colder environments, then you need to choose a desiccant dehumidifier. Desiccant dehumidifiers have lower capacity ratings than refrigerant models; however, they operate much more effectively in low temperatures. As a bonus, they are also much quieter than refrigerant models.
For hot and humid spaces, a refrigerant dehumidifier will work best. They have a higher capacity and operate more effectively at high temperatures than desiccant models.
Next, you need to determine exactly how damp space is. You can do this by looking for signs of dampness. A humidity thermometer can be used to measure the exact humidity of the space. Some other indicators include a musty odor, damp spots on the walls and surfaces, water beading on the walls, and standing water.
For a basement that is slightly damp, you need a dehumidifier with a capacity of 10 to 26 US pints.

For a very damp basement, a dehumidifier with 12 to 32 US pints is recommended.
Wet spaces or those that exhibit signs of water beading on the walls require a dehumidifier of 14 to 38 US pints.
An extremely wet basement has standing water and requires a dehumidifier with a capacity of 16 to 44 US pints.
Do I need to run a dehumidifier in the basement in winter?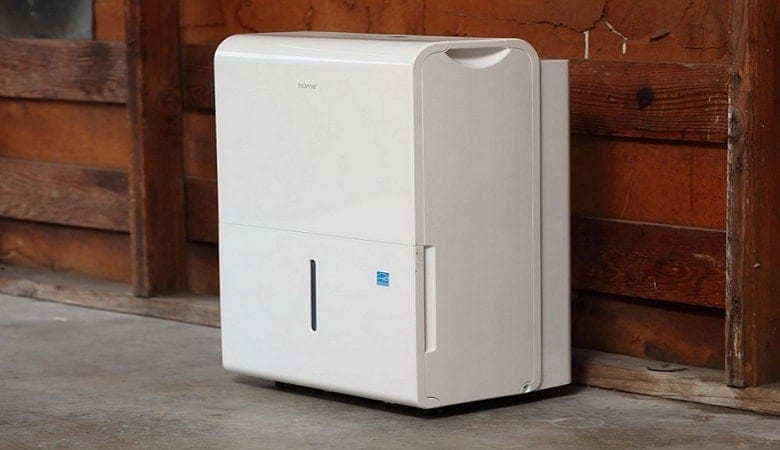 Since humidity levels vary throughout the year, the need for using your dehumidifier should as well.
In fact, during the cold winter months, the inside of your home is usually filled with dry air, so running a dehumidifier is unnecessary. In fact, dehumidifiers actually work more efficiently in warmer temperatures and less effectively in colder temperatures.
Most dehumidifiers should not be operated in temperatures that are below 60° Fahrenheit. This is mainly because the moisture that is eliminated from the indoor air can freeze it when it condenses on the coils and ultimately damage your unit.
When the temperature in your basement is around 65° Fahrenheit, this is the right time to think about unplugging your unit and storing it away for the winter.
As an alternative, if you notice that the room is cold and relative humidity is still high, then you should switch on your heater for a couple of hours a day. Ultimately this will regulate the temperature in the room and make it easier to monitor the humility.
If there are still signs of mold growth even when taking the above measures, natural fungicide such as vinegar, rubbing alcohol, and hydrogen peroxide can be applied directly to the affected areas to eliminate spores.
Ultimately, if you do notice mold than it means you need to run your dehumidifier before it spreads.
Will a dehumidifier kill mold?
Eliminating mold 100% from your home is practically impossible. This is because mold can stay dormant in the air, on walls or surfaces even when there is no excess moisture to enable its growth.
However, when the humidity in the room increases, the mold will start to show in patches on the walls, on clothing, and more.
So ultimately, to answer the question, dehumidifiers, unfortunately, will not kill the mold; but they will prevent it by reducing the humidity levels.
If you have a problem of mold in your basement, don't wait to get it resolved. Mold spreads as long as it has a source of water.
So if you can eliminate the moisture source, which is usually high humidity, condensation, or leaks, you will stop mold dead in its tracks. Ultimately, this will prevent more damage or keep you from spending money on costly repairs.
A dehumidifier can help to decrease the amount of mold in your home by reducing condensation and humidity levels.
However, in order to efficiently and effectively eliminate mold, you should consider calling a mold remediation company or investing in some DIY fungicides such as vinegar, rubbing alcohol, or hydrogen peroxide.
Using a dehumidifier to control the amount of moisture in your home has various health benefits. Mold, dust, pet dander, and allergens can overtake your home if the indoor humidity is too high.
Dehumidifiers, however, reduce the number of indoor pollutants that can trigger allergies cause symptoms such as sneezing, itchy eyes, stuffy nose, and other allergic interactions.
They also reduce the musty odors that are caused by high humidity. Dehumidifiers also protect wooden items from absorbing moisture as too much moisture can damage your furniture.