Table could not be displayed.
Many substances can pollute your indoor air. However, the biggest culprit is mold, and it's not the kind that grows on cheese.
The mold that contaminates your home is a type of fungi that produces microscopic cells known as spores.
​Stachybotrys is the scientific name for the most common black mold present in indoor environments. If you have wet materials that contain cellulose, you can be sure that black mold will latch onto it and start to spread.
This mycotoxin producing mold as the name suggests produces toxic substances that can negatively impact your health.
However, you can rid your home of this problem by using the indispensable tool called an air scrubber.
Not only does it clean and deodorize your surroundings, but eliminates dust, mold, toxic gases, harmful particles, and chemical fumes from your home.
Best Commercial Air Scrubbers Reviews & Recommendations For 2021
Best Overall - ​Dri-Eaz F284 Air Scrubber
The Dri-Eaz F284 DefendAir HEPA 500 Air Purifier has a two-stage filtration system and variable airflow. The primary filter is a true HEPA filter, while the pre-filter is a standard paper filter which traps large particles.
The scrubber is equipped with an 8-inch air outlet allowing you to attach a Dri-Eaz rigid ducting, which is sold separately. So this attachment will turn your air scrubber into a negative air machine as well.
The Dri-Eaz comes with an auxiliary power outlet allowing you to daisy chain up to four units. This is recommended if you need more airflow for cleaning. This machine is pretty powerful, considering it can clear the air in spaces as huge as 1000 cubic feet.
If you want to extend the life of your HEPA filter you may add a second pre-filter. However, this machine does not come with a carbon filter for odor control, and if you must have it, you'll need to buy it separately. You won't find an indicator light either, letting you know when the filter needs a change.
This machine does a pretty good job at filtering mold, dust, mildew, and any other particles resulting from remodeling or cleaning projects.
Construction-related problems such as paint fumes and dust are also no match for the Dri-Eaz machine. It is contractor grade and helps those with asthma and allergies by clearing the air fast.
The MOUNTO Hepa500 1/3hp 500cfm Industrial HEPA Air Scrubber is an essential contractor's tool.
Not only does help to remove dust, harmful particles, and fumes from the air but also eradicates mildew and mold as well.
Most contaminants surface after remodeling, cleaning projects, and water damage cleanup. So this machine makes an ideal air purifier after these projects have been completed.
Not only does it clear the air first but prevents problems for people with allergies and asthma. This machine draws air into the prefilter, which is designed to capture large particles.
The air then moves through the HEPA filter, which traps 99.97% of particles which are as microscopic as 0.3 micrometers.
A second filter helps to extend or prolong the life of this machine, especially in environments with heavy dust. Ultimately it is ideal for any environment where air quality is a concern or priority.
This includes crawlspaces, attics, remodels, mold remediation, home repairs as well as fire and water damage restoration.
Alternative - ​B-Air RA-650 Air Scrubber
The B-Air RA-650 HEPA Air Scrubber is a powerful air scrubber. The pre-filter, carbon filter, and HEPA filter provide a three-stage filtration system that allows you to remove paint, smoke, and various other pollutants from the air.
The HEPA filter comes in especially handy in this process as it can get rid of particles that are larger than 0.3 micrometers in diameter as they pass through it.
This machine also contains an indicator light that lets you know when the filter needs to be cleaned or replaced. The RA-650 has the ability to clean up to 600 square feet thanks to its dependable engineering and durable construction materials.
The RA- 650 is also a portable filtration system that can remove particles during water damage projects. Pet dander, pollen, drywall dust, and miscellaneous debris are no match for this machine in any environment.
As a bonus, it's also C-ETL-US Certified service in compliance with North American safety standards. This certification basically ensures the integrity of the machine and ensures that you will find a machine that is functional and void of any damage or leakage.
The machine has low amperage of about 2.5 and is daisy chainable as it contains a GFCI port and comes with standard indicator light. It also has a variable speed switch that allows for flexibility when using different settings.
​BlueDri BD-AS-550-BL Air Scrubber
The BlueDri BD-AS-550-BL Negative Machine Airbourne Cleaner is a portable filtration system. It contains a powerful HEPA filter to remove particles such as mold, dust, pet dander, Poland, drywall dust and various other debris.
The HEPA filtration system ensures that it removes particles as small as 0.3 micrometers. The three-stage filtration system includes a pre-filter, second stage filter, and a HEPA filter. It creates a clean environment and is ideal for removing mold.
Both the second stage filter and pre-filter removes larger particles to purify the air. The machine is also daisy-chain capable, and stackable as it's made with Rotomold for durability. This also makes it ideal for water damage restoration.
So if you have quality concerns such as home repairs, attics, and other restoration concerns, this machine is ideal. It comes with a C-ETL-US certification, and the replaceable filters are made in Germany.
It also contains a handy hour meter display, and the handle is positioned in the perfect spot, making it easier to carry.
However, there are no wheels which means it's relatively difficult to transport. The machine is also quite noisy even at the lowest speed. The filters, although replaceable, are not cheap or easy to find.
Best For The Money - ​XPOWER X-2580 Air Scrubber
The XPOWER X-2580 Commercial 4 Stage Filtration HEPA + Activated Carbon Filter Purifier System is a powerful air scrubber. It features a 1/2 horsepower motor and generates up to 550 CFM.
There is a four-stage filtration system and an odor-eliminating carbon filter. Two of the nylon mesh filters trap 90 percent of large pollutants and is easy to remove and wash.
The third stage filter or carbon filter absorbs and neutralizes a variety of odors and other debris. The last filter, also known as the final stage HEPA filter eliminates 99.97% off micro-sized particles such as bacteria, allergens, and microscopic dust particles.
When the filter needs to be cleaned or replaced, the light indicator will let you know. The machine is also stackable and lightweight, which makes it both portable and easily transportable.
The air scrubber is tough and durable enough to take care of your toughest water damage restoration projects. It is made from ABS plastic which is the same material used in football helmets and has an ETL/CETL US certification.
Commercial Air Scrubbers FAQ
Commercial air scrubbers are designed to remove chemicals, odors, particles, and gases from the air utilizing a portable filtration system.
Continue reading to find out all you need to know about commercial air scrubbers.
​What Exactly Are Air Scrubbers?
Commercial air scrubbers are machines used to deodorize and clean the areas where unpleasant odors linger.
Typically they are used to eliminate the smell of smoke after a fire or certain musty odors that result from mold and water damage. These machines contain portable filtration systems to remove particles, chemicals, odors, and gases from the area.
Industrial air scrubbers are designed to draw in the air from the surrounding environment and pass it through the filters. This effectively scrubs the air and removes contaminants.
Although they have similar capabilities, functions, and filters, they all have a primary purpose which is to remove harmful substances from the environment. Most air scrubbers make use of ions or ozone to clean the air.
They consist of a filter and fan that periodically draws large amounts of air into it and force it out the other side.
There are different types of scrubbing, such as wet scrubbing. This is a technique that is used to force air through a moist pad, a liquid chamber, or wet cloth.
As the air passes through the liquid, the pollutants stick to it, while the clean air passes through and leaves the contaminants behind. Plain water is used in this process.
Some air scrubbers may make use of other solutions or reagents to target and remove specific chemical compounds. However, most of these machines typically have flue stacks or other methods of wastewater disposal, which may make it difficult to clean.
Dry scrubbing introduces air into the device, and a process of removing particles and other debris from the air is used.
Dry scrubbers make use of activated alumina or other porous material to remove specific compounds that are treated with specific chemicals.
It's often used to remove odorous and acidic gases from the air that are often a result of industrial operations. Air scrubbers can be used by basically anyone for absolutely any purpose.
However, it's most commonly used in commercial and industrial workspaces such as factories and warehouses because this is where the most amount of fumes and chemicals are produced.
​What Is An Air Scrubber Used For?
As mentioned previously, air scrubbers are portable air filters that are designed to remove chemicals and other particles from the air.
It does this by sucking in the air, eliminating the pollutants and then pushing out the clean air. Therefore air scrubbers are useful in various situations.
Worksites usually have airborne pollutants.
Certain businesses such as woodworking shops create a huge amount of dust and construction sites also generate a lot of dust and debris. Garages as well create a lot of chemicals and debris.
Therefore, factory workers are exposed to a variety of chemical pollutants over a period of time. So these sites are ideal environments to make use of an air scrubber.
Not only will it keep contaminants under control, but also makes the environment safer for workers.
Water Damaged Environments
An air mover is probably the first tool used in a water damage restoration project. This machine makes use of high-pressure air to dry floors and carpets quickly.
Since it forces water up, it also kicks up unwanted things such as carpet fibers, pet dander, and dirt not to mention possible mold and allergen spores.
Therefore by using an air scrubber in conjunction with an air mover, you'll be able to remove unwanted contaminants from the air while the room dries.
Soot and ash are the physical airborne contaminants that a fire leaves behind. However, it also creates chemical contaminants, and in most instances, air scrubbers make excellent fire restoration tools.
A filter removes particles and helps to make the space safer to breathe as it removes odors caused by the carbon and other lingering smells.
Sewer Damage
Unpleasant odors are a natural result of sewer damage.
An air scrubber will make the air more tolerable for workers and will also remove unwanted bacteria, mold, and other pollutants from the air, which makes it safer for everyone in that environment.
​How Many Air Scrubbers Do I Need?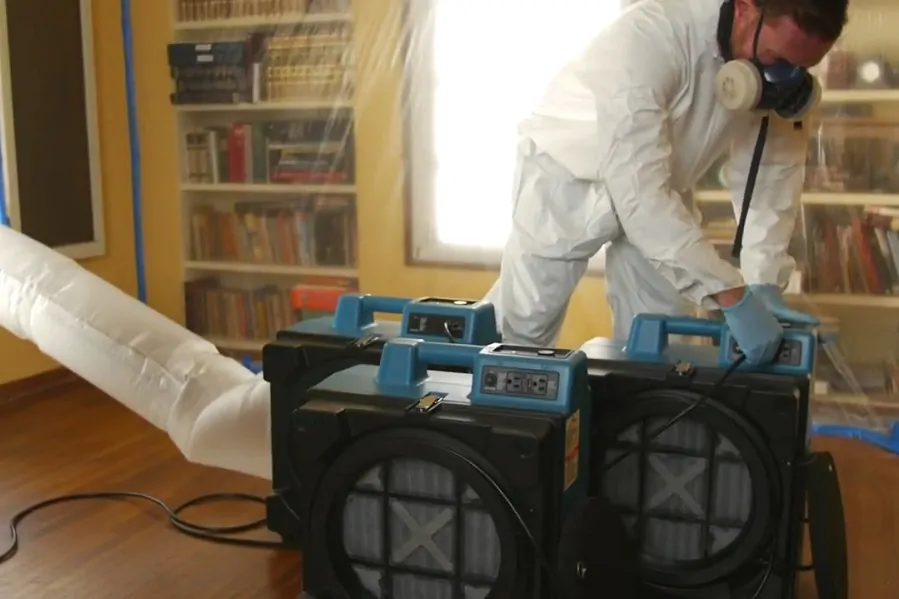 Negative air machines, also known as air scrubbers, not only circulate the air but remove contaminants from the atmosphere. They eliminate fumes, dust as well as drywall and other particles and absorb mold and spores.
They do this by creating an area of negative pressure with sucks the polluted air into the machine and pushes out the purified air.
Therefore, it is ideal for use in factories, hospitals, and other public buildings. These machines should typically change the buildings air approximately six times an hour.
You will need to use the building's size as well as the number of times the air changes per hour to get your figure.
The buildings square footage must be multiplied by its interior height. The building's volume should then be divided by the negative air machines volumetric rate, which should be measured in cubic feet per minute.
Ultimately you will end up with the amount of time, in minutes a machine takes to change the building's air.
After dividing 60 minutes by the amount of time it takes the machine to process air and then dividing 6, which is the industry standard for air changes per hour, you will get your answer.
​How Long Should You Run An Air Scrubber?
​When it comes to the amount of time needed for an air scrubber to get the job done, there are lots of variables.
You will need to take the size of the air scrubber, the room size, and whether the air is circulating within the room, or through the room into consideration.
As a standard guideline, 24 to 48 hours is needed at the rate of four air exchanges per hour to remove contaminants.​
If you're removing mold, then you should follow the above recommendations. This is basically the minimum requirements, and in many cases, you can go over and above the 24 to 48 hour turn around time.
Sometimes you may need more than 48 hours even if the air is clean but was extremely moldy prior to using the air scrubber. Some people run their machines for approximately five days after the mold has been removed.
Another way of looking at it is if you have a cup of fruit punch which is red in color, and a cup of water. The cup of fruit punch represents the mold spores, and the cup of water the air scrubber.
So as you slowly pour the water into the fruit punch, you'll still have the red liquid in the cup however the more cups of water you pour into the liquid, the more it overflows and becomes diluted, eventually turning to water. So this is basically how it works with the scrubber.
The machine can be more effective if you use it in conjunction with a fan. If you move the furniture or equipment around the room, this also helps the process.
Ultimately, the fan kicks out the mold spores and increases the efficiency of the time that the air scrubber is on. So you basically get more done in less time.
​Time To Invest In An Air Scrubber
Lots of people think that they are protected from air pollution when they are in the comfort of their homes. Sadly this is not true.
According to the Environmental Protection Agency or EPA, indoor air is between 2 to 5 times as polluted as outdoor air and sometimes up to 100 times as polluted. In fact, it is one of the top five environmental dangers facing the planet.
People spend most of their time indoors, especially inside their homes. So the quality of indoor air is extremely important. If your home is full of dirt, dust, and other particles, it can harm the health of your family.
Contaminated indoor air has been known to cause sore throats, headaches, chest tightness, and various other uncomfortable symptoms. However, by making use of an indoor air scrubber, you can bring the cleaning power of mother nature indoors.
Indoor air scrubbers keep the air clean, fresh and purified in your home. It does this by eliminating pet odor, mold spores, cigarette smoke, and the occasional burnt food smell as well.
This ultimately helps you with allergy symptoms, coughs, sinus problems, nausea, dizziness as well as headaches and fatigue.
Air scrubbers are also useful on websites, and in fact, it actually keeps the environment cleaner in the air that workers breathe purer. So if you've never made use of an air scrubber before, why not consider the above points and invest in your health and well-being.
Resources
​EPA