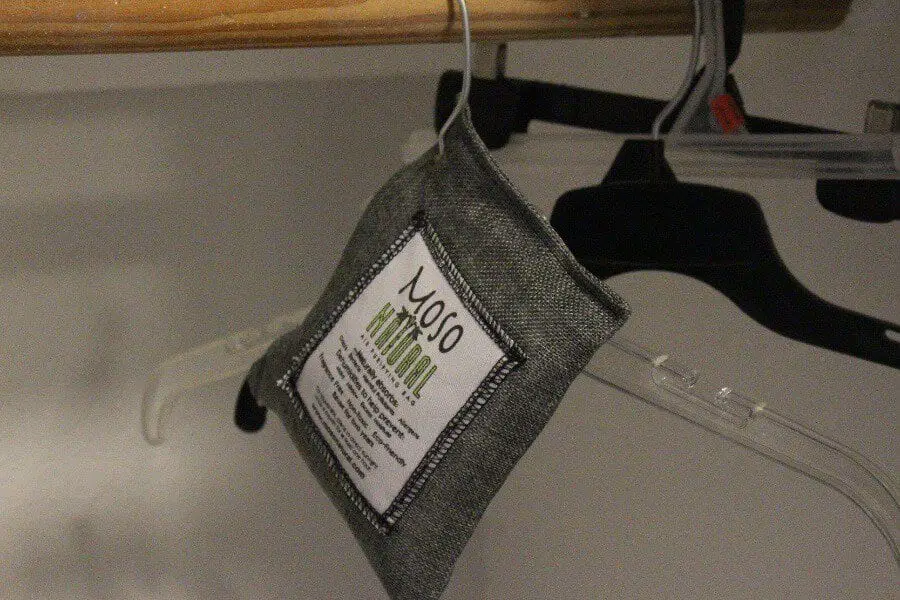 If you've never used an air purifier before, you might not even realize how much your energy levels and breathing are being affected by the air quality in your home.
This air purifying bag from Moso is an affordable solution for poor air quality in the home.
This is more effective than you might imagine just from looking at it. Check out the key specs in our quick Moso natural air purifying bag review below:
This is an all-natural air purifier. The moso natural air purifying bag works because of the Moso natural bamboo charcoal it contains. Basically, each piece of charcoal is like a sponge that absorbs all the bad gunk in your air.
And it can continue to do this for up to 2 years. All you have to do is take it outside once per month to let it sit in the sun for an hour. This will reactivate it so that it continues to absorb at the same rate.
While this is a wonderful all natural air purifier, it can only do so much. This is more intended for small spaces: cupboards, closets, cars, bathrooms, and so on.
If you want something that will purify the air in a larger space like a bedroom or living room, you will either need a bunch of these bags or you will need an air filter.
This is probably an overlooked advantage of these bags. They require absolutely no electricity or charge of any kind.
So if you just have small areas that need some air purification, you can use this to totally solve the problem without having to run up your electric bill!
While there is always some risk in ordering online, when you go with a reputable site like amazon, you can be sure you are getting what you ordered.
And by ordering online, you have time to try out the product at home and send it back if it's not performing as expected.
While this is not a cure all and it certainly isn't up to the task of purifying the air of a whole house, it is great for those nooks and crannies and smaller spaces that aren't really big enough to warrant using an electric air filter but still need some improvement in air quality.
Plus they are cheap enough that you can easily just toss one in your car, keep one in the cupboard with your dried goods, and so on.
It's the perfect solution for those little problems!